Accommodations
SpringHill Suites by Marriott Philadelphia Willow Grove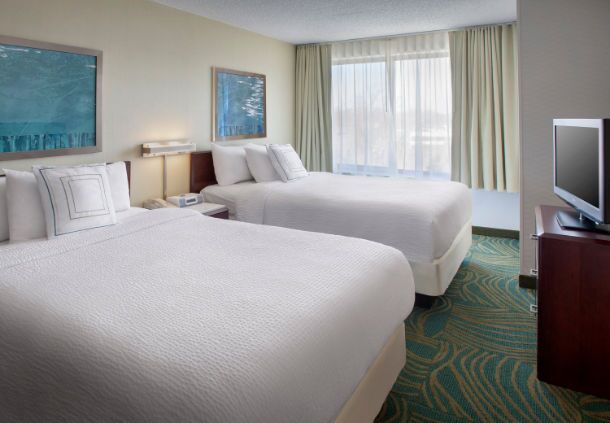 3900 Commerce Ave, Willow Grove, PA 19090, USA
215-657-7800
** To book at the special group rate, please use the name Smith Lear Wedding **
King Room - $129 per night
Double Room - $139 per night
Book by June 10, 2017 for these special rates.
Holiday Inn Bensalem-Philadelphia Area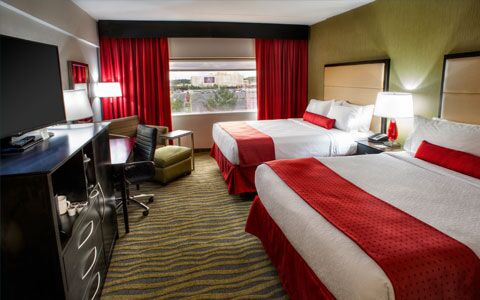 3327 Street Rd, Bensalem, PA 19020, USA
855-373-2544
** To book at the special group rate, please use the name Smith Lear Wedding **
King Room - $115
Double Queen Room - $115
Book by June 1, 2017 for these special rates.
Fairfield Inn & Suites by Marriott Philadelphia Willow Grove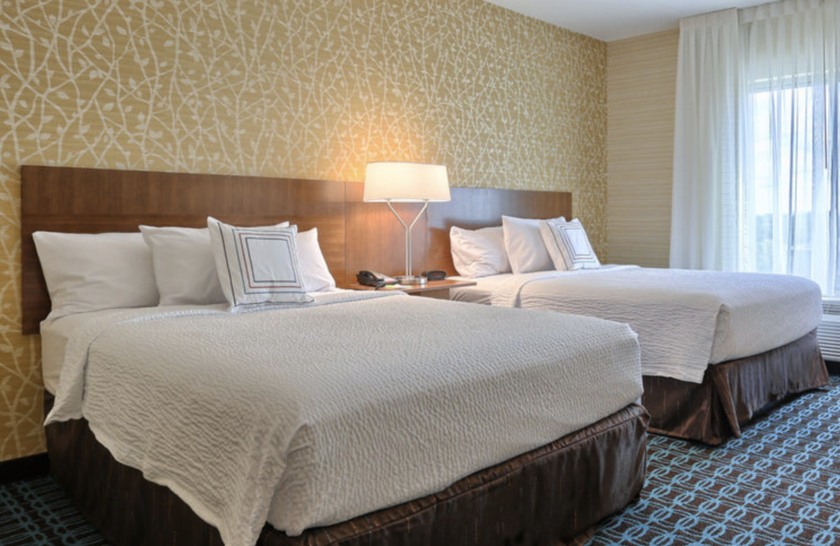 2440 Maryland Rd, Willow Grove, PA 19090, USA
1800-228-2800
** To book at the special group rate, please use the name Smith Lear Wedding **
King Room - $119
Double Queen Room - $119
Book by June 9, 2017 for these special rates.
Things to Do
Hop-on, Hop-off Double-Decker Bus Tour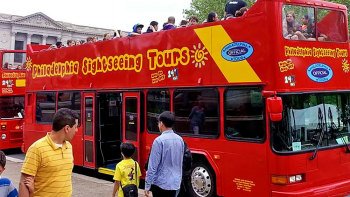 111 S. Independence Mall East between Market and Chestnut Street, Philadelphia, PA 19106
Aboard a double-decker bus, hear the history and stories that shaped Philadelphia. With 27 well-planned stops including the Liberty Bell and Reading Terminal Market, you are free to hop on and off the bus to explore landmarks, shops, museums, and historic sights.
Take a seat as your expert and highly entertaining guide leads you around town. Chose from either 2 or 3 full days of exploration, get to know the City of Brotherly Love's iconic institutions and roam its lively neighborhoods, from the Old City and Society Hill to Chinatown and Market East.
Explore the origins of the formation of the United States at Independence Hall and the National Constitution Center. Just steps away are more historic sites such as the Betsy Ross House, the United States Mint, and Elfreth's Alley—known as the oldest street in America. Grab lunch along your route from a food stall inside Reading Terminal Market, or take a respite in peaceful Rittenhouse Square, strolling by h high-end stores, locally owned boutiques and art galleries.
Route stops include:
The Barnes Foundation Collection
Independence Hall
National Constitution Center
Liberty Bell
Reading Terminal Market
Philadelphia Museum of Art
Rodin Museum
Eastern State Penitentiary
Please Touch Museum
The Philadelphia Zoo
The Franklin Institute
Academy of Natural Sciences of Drexel University
Philadelphia CityPASS: 4 Must-See Museums & Attractions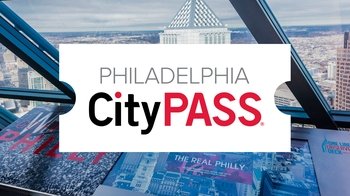 222 North 20th Street, Philadelphia, Pennsylvania 19103
Pop into can't-miss attractions and experience 4 of Philadelphia's most popular attractions with CityPASS, which is valid for 9 consecutive days. Plus, get insider tips to help you plan your itinerary with an included attractions guide.
With your Philadelphia CityPASS, enjoy streamlined admission to places like The Franklin Institute, where you can learn about everything from the discovery of electricity to the aeronautical engineering. You could also bounce around the city in style with Philadelphia Trolley Works and soak up sweeping views from the 57th-floor observation deck at One Liberty Place.
Your helpful city guide can help you design a flexible itinerary to suit your schedule and you're interests, whether you want to visit the sharks at the Adventure Aquarium or chatter with monkeys at the Philadelphia Zoo.
Your Philadelphia CityPASS offers priority access and general admission to the following attractions:
The Franklin Institute
Philadelphia Trolley Works & Big Bus Company
One Liberty Observation Deck
You also have the opportunity to choose 1 of the following attractions:
Adventure Aquarium
Philadelphia Zoo
One Liberty Observation Deck Admission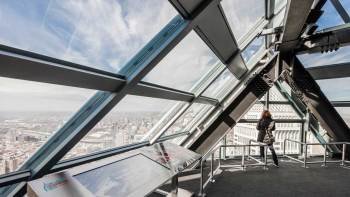 1650 Market Street, Philadelphia, PA 19103
No trip to Philly would be complete without a visit to the One Liberty Observation Deck, a vantage point that lets you soak up sweeping city views from 57 floors up. Enjoy admission to the world-class lookout and enhance your experience with a healthy dose of US history.
Make your way to One Liberty Place on Market Street, a polished architectural wonder of a building that reaches 945 feet (288 m) skyward. Step into an elevator cab that recreates the shape of the building's spire and zip up to the top of the tower, where the feet of a massive statue of Ben Franklin greet you. Gigantic murals and interactive touchscreens reveal captivating bits of US history and the Founding Fathers as you explore the deck.
Follow a kite string to the building's top floor, where the head of Ben's statue forms the centerpiece of a 360-degree observation deck encompassed by floor-to-ceiling glass walls. The views from this vantage point can't be topped—bird's eye glimpses of busy city streets, towering skyscrapers, and the mighty Delaware River are just the beginning.
Touchscreens throughout the deck offer an opportunity to delve into the nation's rich history and get high-definition looks at some of the city's most cherished monuments. Learn about local sports, music, and pop culture, with commentary available in 5 languages. Stick around for a breathtaking sunset before making the decent back to street level.
Philadelphia Museum of Art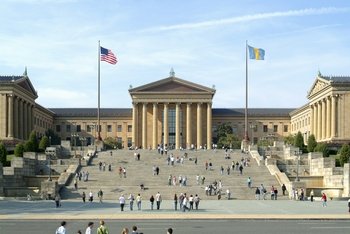 2600 Benjamin Franklin Parkway, Philadelphia, PA 19130
Discover at the world-class collection of one of the largest and most renowned museums in the country, home to more than 227,000 works of art. The striking neoclassical Philadelphia Museum of Art contains more than 200 galleries and architectural structures including a Japanese Teahouse and an Indian Temple Hall.
Explore the Impressionist galleries—home to Van Gogh's Sunflowers and Monet's Japanese Footbridge. Meander through the Modern and Contemporary galleries to discover Picasso's masterpiece Three Musicians, and stroll through architectural structures including a medieval cloister, a Japanese teahouse, a Chinese palace hall, and a 16th-century Indian temple hall.
A major dining and shopping destination, the museum's main building has 4 shops featuring art-inspired and one-of-a-kind items like books, prints, jewelry, clothing, crafts and toys, plus cafes and a fine-dining restaurant. Just steps down the parkway, see the largest collection of Rodin sculptures outside of Paris. This tranquil oasis is one of the world's greatest places to experience the work of celebrated French sculptor Auguste Rodin.
Segway Adventure Tour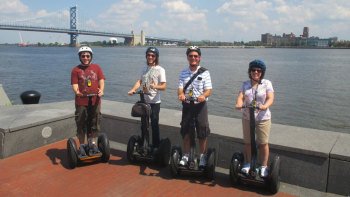 229 Arch Street, Philadelphia, PA 19106
Zip down charming lanes, cruise past historic buildings, and glide along the banks of a mighty river as you discover the sights and sounds of Philadelphia. From atop the wheels of a well-balanced Segway, explore the neighborhoods and landmarks of the City of Brotherly Love.
Meet up with your experienced guide and enjoy a brief lesson on proper riding technique. When you're ready to roll, head out into the Old City to begin your tour on narrow cobblestone lanes, including the oldest residential thoroughfare in the country—Elfreth's Alley. As you ride, your guide shares information about the area and acts as a photographer, snapping photos to share with you after your excursion.
Continue toward the water and reach Penn's Landing, where you can watch beautiful riverboats chug against the strong currents of the Delaware. Check out the trendy cafes and boutiques of South Street as you approach South Philly, where Italian- and Irish-American communities have fostered a vibrant cultural landscape.
Smell the freshly baked bread wafting from the colorful Italian Market. Buzz closer to see artisans, butchers, and cheesemakers selling their wares from stalls brimming with delicious treats. Nearby, investigate the funky sculptures and installations at Magic Gardens, a non-profit organization dedicated to promoting the work of local artists.
Loop back toward your starting point as you quietly hum by the 18th- and 19th-century edifices in Society Hill, ending your tour with a reflection on the area's important history and brick-riddled architecture.
Small Group Markets, Mosaics, & Magic Tour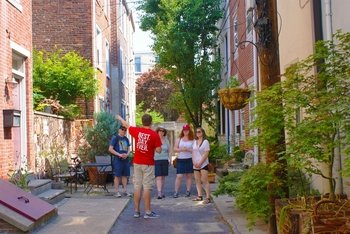 601 South 9th Street, Philadelphia, Pennsylvania
The ultimate urban melting pot, South Philly embodies the true heart of the city. From acclaimed Jewish delis and historic churches to bustling markets and vivid mosaics, this guided walking tour leads you into the Philadelphia proud locals know and love.
Start your day at the colorful South Street, before meandering the streets of Bella vista district—home to an array of fascinating mosaic artworks. Next, explore the renowned Italian Market, where you can pop into a tempting bakeries, stop at cheese and chocolate specialists, and grab some lunch from one of the inviting stalls, as you marvel at the sights, smells, and sounds of the various local delis and stalls.
From the market, head to Philadelphia's Magic Gardens. Showcasing the intricate mosaics of Isaiah Zagar, this incredible maze-like structure contains colorful visual anecdotes of the artist and the city. Conclude your tour with a shopper's stroll down South Street, famous for its bohemian feel.
From the Magic Gardens, take a stroll or catch a local bus down Philly's eclectic and dynamic South Street, where you can get your counter-culture fix. In the spirit of being a bona-fide local on South Street, you can make an appointment for your new Urban Adventures tattoo.
Finally, take a peek into one of the country's most historic neighborhoods, Queen Village, and soak in the character of this charming corner of Philadelphia. Your tour is finishes on the back of South Street for a chance to ask your local guide where you should eat, drink, and shop after the tour.
Total Philly Tour with Beer Tastings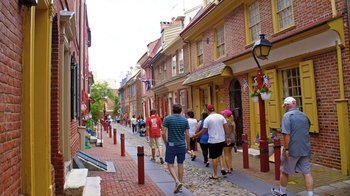 601 South 9th Street, Philadelphia, Pennsylvania 19147
Dive into a full day of good eats, good drinks, and quality sightseeing with a local guide leading the way. Make your way from South Street to Independence Hall, and hit the Italian market for some gourmet specialties before gathering around a pint of locally brewed craft ale at a longstanding Center City pub.
Spend the morning exploring eclectic South Street, a colorful stretch of the city whose charming brick buildings brim with unique eateries and boutiques. Window shop your way into the incredible Magic Gardens, a sprawling mosaic that covers a half of a city block. After roaming around the meticulously laid tiles, head on over to Bella Vista, the city's historically Italian neighborhood. Wander through the stalls of the Italian Market, grabbing a bite to eat at one of gourmet food purveyors if you'd like.
After lunchtime, switch guides for an afternoon in the Old City. Travel back in time at Elfreth's Alley—the oldest continuously occupied residential street in the country—and walk in the footsteps of the Founding Falls at Independence Hall, where both the Declaration of Independence and the Constitution were signed. Sightseeing works up an appetite—it's a fact—so jump on the subway to ride into Center City. Join the flow of locals headed toward the neighborhood's distinctive drinking establishments. Chat with your guide over a pint as you visit 4 spots, from a classic dive bars and a lively Irish pub to the oldest tavern in the city, and drink in knowledge about the city's booming craft beer scene.